IP – based Systems and Technologies for Television Production
Active project
The next generation of IP production systems needs well designed standards and specification in order to guarantee interoperability among products and solutions from different manufacturers. Various organizations are at work to define the architecture for future IP Production infrastructure, establish open standards  and organize interoperability tests:
The following roadmap from JT-NM shows:
which standards and specification enable the JT-NM Reference Architecture
how the range of underlying technologies is expected to evolve
when it is expected that those standards and specifications be widely available to build interoperable multi-vendor systems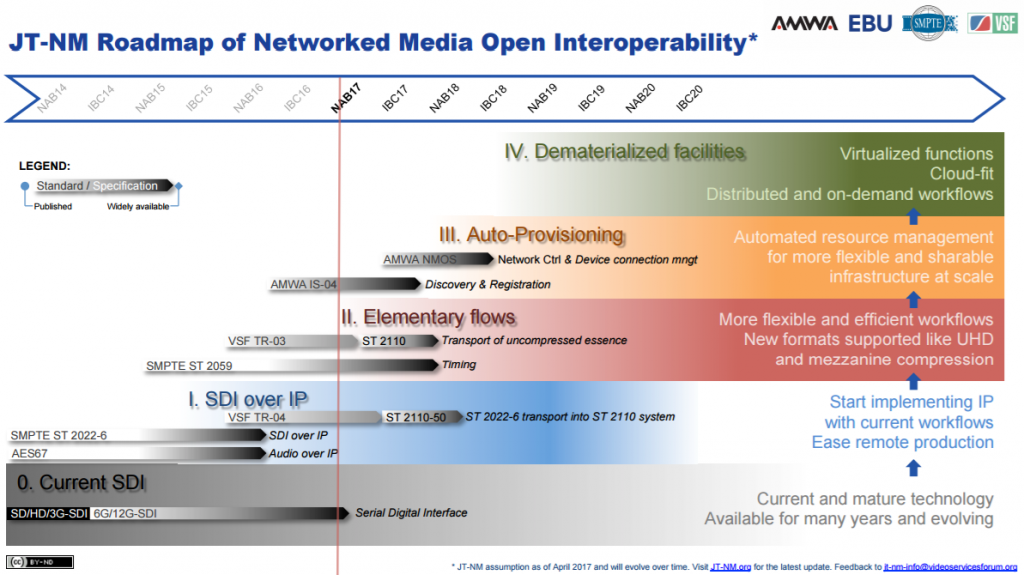 SMPTE ST-2110 standard (currently being drafted) specifies the transport and synchronization of video, audio and ancillary data streams over IP network. There are currently no commercial solutions  supporting it (they are expected within 2017), but it is reasonable to assume that future platforms will converge in an interoperable way to this new standard
Similarly AMWA NMOS will be the standard for automated resource management, including network control, device discovery, registration and connection management.
Alongside the evolving standards described  in the roadmap, complete systems based on proprietary technology are available for immediate deployment. For example:
Sony IP Live (NMI based)
ASPEN (Adaptive Sample Picture ENcapsulation)
Open format from Evertz and other manufacturers, submitted to SMPTE for publication as a Registered Disclosure Document (RDD 37); makes use of widely deployed MPEG-2 Transport Stream encapsulation
Audio over IP solutions include:
AES67
an open standard, developed by the Audio Engineering Society,  designed to allow interoperability between various IP-based audio networking systems
Ravenna
an open technology based on existing standards, fully AES67 compliant, that can operate  on existing network infrastructures
Dante (Digital Audio Network Through Ethernet)
a popular audio over IP solution developed by Audinate and licensed to more than 350 companies
A description of  CRIT projects regarding products, systems and technologies for IP Production can be found in the following section.
Related Projects