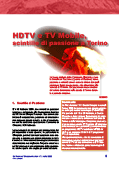 Marzio Barbero e Natasha Shpuza
HDTV and Mobile TV, Sparks of Passion in Torino
Rai, during the Torino 2006 XX Winter Olympics Games promoted a trial of the most recent DVB/MPEG technologies. From 10th to 26th February, the Centre for Research and Technological Innovation organised and implemented the broadcasting in the Turin and Piedmontese Olympic Mountain areas of a single DTT channel (thanks the adoption of hierarchical modulation) including an HDTV programme, MPEG-4/AVC coded, and a DVB-H multiplex of 7 TV and 6 radio programmes. Important partners have cooperated for the trials, which have provided relevant information above HDTV and Mobile TV future services.