DVB-I
The TV programme list is enriched with new channels received via the Internet
Active project
The new ways of consuming audio / video content by younger users are pushing traditional broadcasters to deliver their TV offering on all available distribution platforms.
Concerning TV distribution over the Internet, the main challenge still to be faced is related to supporting a huge number of concurrent connections, equivalent to the traditional television audience (i.e., millions of users in Italy): current Internet network infrastructure is not yet properly sized for such traffic peaks generated by live events.
Traditional broadcast TV (terrestrial or satellite) are today the most suitable way to serve an unlimited number of receivers at the lowest cost per user; on the other hand, the limited frequency resources, especially in the case of terrestrial distribution, do not allow increasing the available offering at will. In addition, these networks do not allow on-demand fruition, which requires availability of IP broadband networks. In the next decade, when these networks have reached a widespread distribution, a gradual migration of domestic television users from traditional broadcast networks to optical fiber networks can be assumed.
DVB (Digital Video Broadcasting) has recently started working on a new standard, called DVB-I, which aims to deliver TV programmes over the Internet, so that they can be received and displayed by a variety of connected receivers (TVs, PCs, tablets, smartphones) with the same ease of use as today's traditional TV programmes received from an antenna.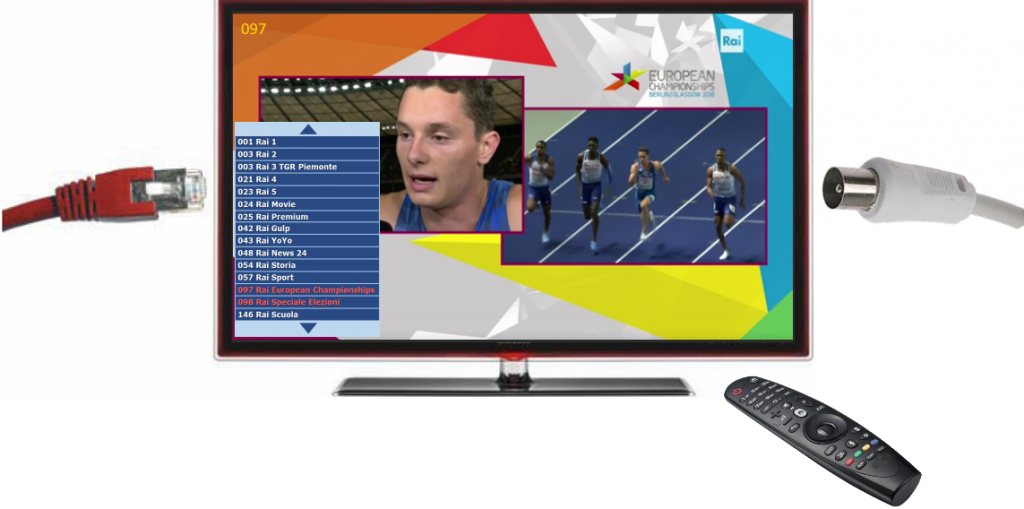 Benefits for broadcasters and users
Broadcasters wish to make their TV and radio programmes available also over the Internet, receivable by means of a variety of connected devices (both TV sets and devices, such as smartphones and tablets, not equipped with a terrestrial or satellite TV tuner), with the aim of enlarging their traditional offering, reaching new users and providing access to the services even outside the home.
DVB-I services may be a copy of broadcast programmes (simulcast) or may be additional ones, i.e., available only over the Internet: this will allow an agile activation of niche or temporary programmes (e.g., during sports events) which might not easily find room in the traditional broadcast offering.
In the context of a horizontal market, without the need of downloading a new app related to a specific operator, users will be able to discover and consume the new DVB-I services with the same ease of use of today's traditional services (i.e., with an installation procedure functionally equivalent to a frequency scan), perceiving them as part of the broadcaster's wider offering.
In particular, on connected TV sets, a consistent channel list will be presented to the user, including both broadcast services (DVB-T/T2, DVB-S/S2) and DVB-I services, with a harmonised Logical Channel Numbering (LCN). Like today, navigation among programmes will be via the remote control (e.g., by typing numbers, or using P+/P- keys, or from the EPG). Other kinds of devices will leverage the same service discovery functionality to provide a familiar and coherent user interface.
DVB-I programmes may include live/linear services, VOD (Video On Demand) services or a personalized mix of linear and on-demand content.
Current activities
The DVB CM-I Group has recently completed its first phase, with the preparation of the main commercial requirements for the DVB-I services. The DVB Technical Module (TM) is now asked to write a technical standard meeting those requirements.
RAI CRITS has participated in the definition of the use cases from which the commercial requirements have been extracted, with focus on the "broadcast-centric" use case, where the DVB-I services, authorized by a National body, represent an extension of the broadcaster's existing offering and are included in the TV programmes list with their own LCN.
Some aspects have been left to a second phase, currently in progress. Among them:
Electronic program guide (schedule), to be prepared and distributed so as to minimize differences with the EPG of broadcast channels, in order to facilitate its integration into a common user interface;
Receiver 'bootstrap' with a central management of the DVB-I service list: although there are many ways to achieve the initial scan of DVB-I services (for instance, a preloaded URL in DVB-I terminals or apps, metadata sent over broadcast channels, etc.), it would be helpful if, during the installation, each receiver could access to an up-to-date list of legitimate DVB-I services (i.e., based on transmission rights for a specific geographical area, e.g., Italy), together with their harmonized LCN. This list could be maintained centrally (e.g., by the National Regulator or a similar official control body, such as AGCOM for Italy). The opportunity to arrange and maintain a unique central registry, i.e., a global entry point (e.g., a URL on the DVB site or another recognised body), which in turn references the most appropriate list of DVB-I services (e.g., on a country basis), is currently under discussion.
In order to provide an adequate Quality of Experience, DVB-I services will adopt new techniques, currently under study, capable of reducing latency and zapping time of audio/video streams delivered over the Internet with respect to current values which are not yet aligned with broadcast services.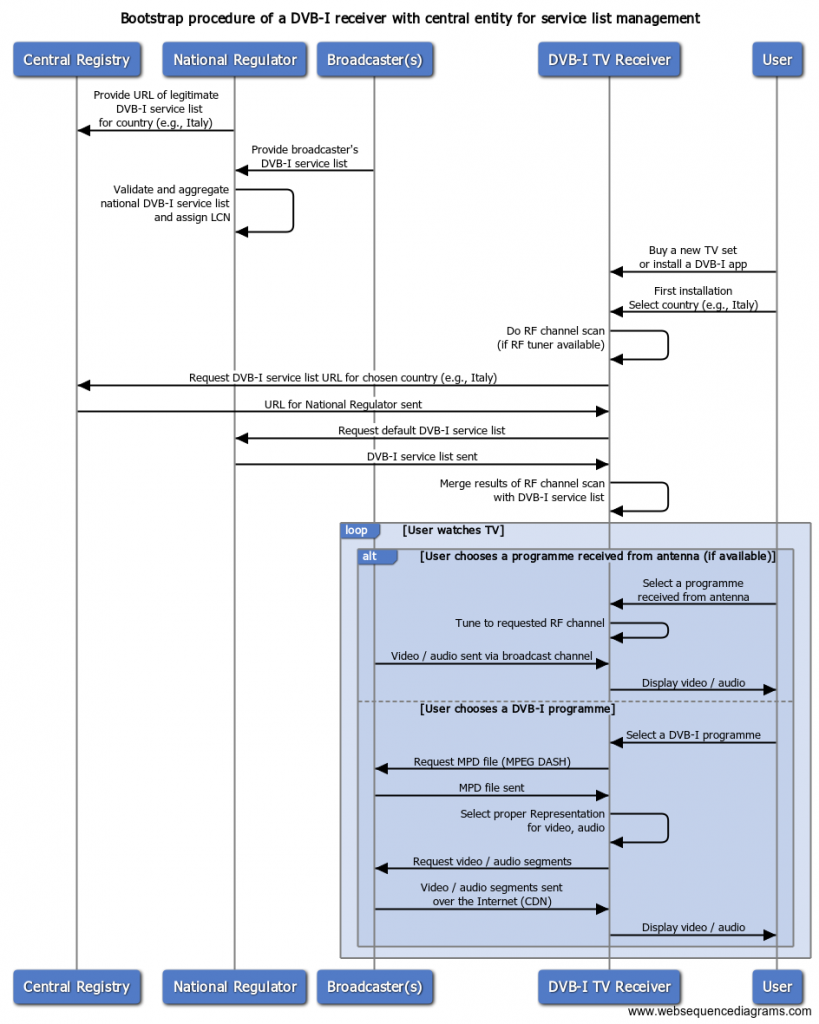 More information
Related Projects

Active project
TV signals on ultra-wideband optical fibre networks
Optical fibres are now increasingly popular in telecommunications, due to their extremely high bandwidth, their very low attenuation, their complete immunity to electromagnetic interference and their reduced diameter and weight.
For these reasons, they are playing an increasing role in trasporting TV content, both for in-building TV signal distribution within the multi-service optical infrastructure, which is mandated in all new buildings (Italian Law 164, 2014) and for TV consumption via broadband networks, which will benefit from ongoing investments in FTTH (Fiber to The Home) architectures, where the fibre is terminated at each building. In Italy, network operators are launching massive optical fiber investment plans over the next five years, not only to cover the most densely populated areas (A and B) but also for less profitable areas (C and D).


Active project
TV over the Internet: OTT (Over The Top) distribution of audio/video content
Today, TV content can be distributed via Internet as OTT (Over The Top) delivery, allowing to expand the traditional offer with on-demand services. As the QoS (Quality of Service) cannot be guaranteed on the Internet as on a private IP network, during the years specific network architectures have been designed and developed (CDN: Content Distribution Network) and adaptive streaming protocols (ABR: Adaptive Bit-Rate), in order to optimise the data stream according to the broadband connection and the kind o terminal associated to each user.