AN AVATAR FOR ITALIAN SIGN LANGUAGE
Activity within the Rai-LIS Project
The Rai Virtual LIS platform allows messages to be conveyed in LIS Italian Sign Language by means of avatars created in 3D computer graphics, in order to provide deaf signing people with new opportunities and service scenarios in contexts where human LIS interpreters are not provided.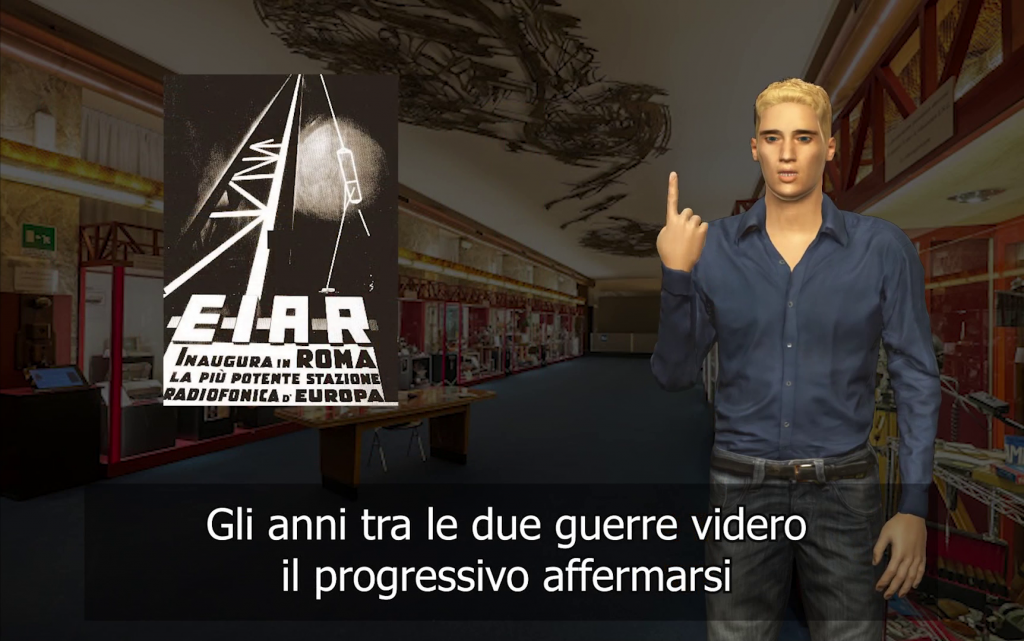 Rai realized four virtual LIS interpreters, developed by adopting the latest computer graphics technologies and the use of innovative platforms.
This research activity will allows Rai to manage the entire process of generating new contents in LIS for future services for deaf people.
A selection of LIS Avatar videos:
Raimondo at Museo Radio TV
Lucio at Mercati di Traiano – Museo dei Fori Imperiali
It is possible to foresee new services for deaf people, taking into account the technical and socio-cultural implications and the involvement of Rai– Segretariato Sociale, ENS "Ente Nazionale Sordi", LIS Interpreters associations and deaf people:
Cultural Heritage and Tourist Information: description in sign language of monuments,
works of art, architectural contexts, cultural and tourist information.
Information for travelers: in stations and airports a service of alert and information: timetables,
delays, information related to security and all the news currently delivered through speakers.
On-Demand Translation: translation in LIS through Virtual Actor of contents that, for the specificity
of the topics and lexical complexity, for example Medical / Legal / Tax language, may be
difficult to understand.
Lessons University / School: translation in LIS by Virtual Actor of learning contents, lectures,
training courses and ministerial programs.
Books / Novels / Stories: LIS translation of contents, such as short stories, novels, textbooks.
This would facilitate the understanding allowing a more direct and communicative approach to
contents.
Related Projects

Active project
Rai-LIS project
Italian sign language
A set of virtual characters, owned Rai, is currently under construction. These virtual characters are developed by adopting the latest technologies in computer graphics and landing on innovative use of platforms for the end customer.
This activity allows us to internally manage the entire new content in LIS oriented to service new scenarios generation pipeline for deaf people.