Personalized Linear Radio
Personalized Radio and the Hybrid Content Radio Framework
Active Project
Personalized Linear Radio is based on the Hybrid-Content Radio (HCR) framework, proposed at the International Broadcasting Convention in September 2015. Unlike most Internet streaming services (such as Spotify or Deezer), this system allows adding audio content to an existing linear audio structure: the program schedule of the broadcaster. Especially, HCR enriches the linear tuner's schedule with custom and contextual audio content that replaces small parts of linear audio. The context can be the emotional state, the geographic location, the group, the weather, and all the factors that contribute to the description of the status of the listener.
The inclusion of suggested audio content can be:
automatic, based on context, previous listening history, provile and preferences
manual, based on the listener's direct interaction (skip, channel change)
The end result of this enrichment is to improve the listeners' user experience, offering personalized content, such as news, entertainment, music, and even relevant advertisements. The proposed technique, if used on devices supporting broadcast reception (such as DAB+) and connected to the Internet, provides content personalization at a minimum bandwidth, since the traditional audio channel is preferred, unlike the existing music playlists on the Internet.
The proposed framework can be applied to both audio and video content. However, audio, compared to images and videos, fits well into scenarios where the listener follows other activities. It is common to see people listening to the radio as they walk, go biking, or drive a car.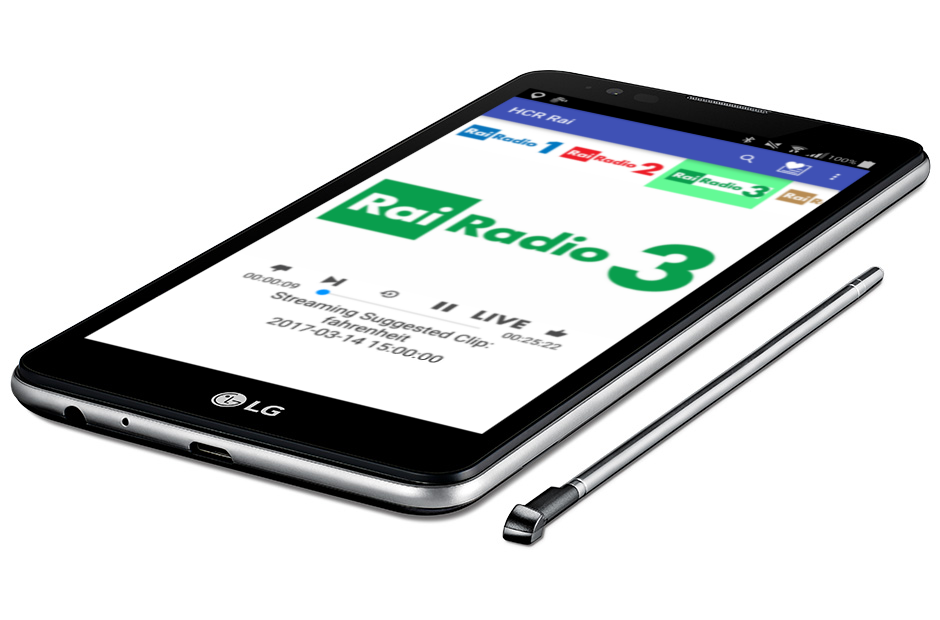 Rai is experimenting with the personalized linear radio, a still evolving service based on the hybrid content radio framework presented in September 2015 to IBC. The research has been carried out in part in a PhD in the Department of Computer Science at the University of Turin. The prototype allows you to use information about user preferences and context to select enrichment content, through context-based recommendation algorithms.
Hybrid content radio aims to improve the listening experience, suggesting personalized content, and optimizing bandwidth, preferring, if available, the broadcast channel for listening to content.
See to the references for detailed information.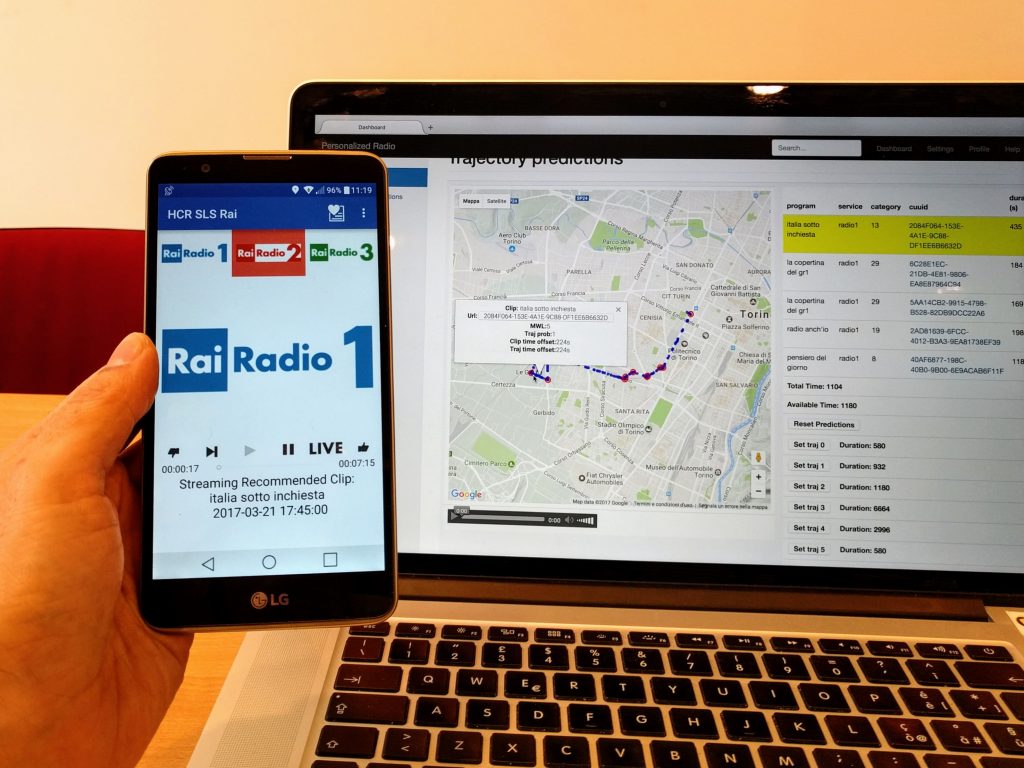 More information
Authors: Paolo Casagranda
Awards
Francesco Russo, Raffaele Teraoni Prioletti
References
P. Casagranda, A. Erk, S. O'Halpin, D. Born, W. Huijten. A framework for a context-based hybrid content radio. The Best of the IET and IBC Journal, IET, 2015, http://digital-library.theiet.org/content/conferences/10.1049/ibc.2015.0035
P. Casagranda, M. L. Sapino, K. S. Candan. Context-Aware Proactive Personalization of Linear Audio Content. EDBT: 20th International Conference on Extending Database Technology, 2017, https://openproceedings.org/2017/conf/edbt/paper-433.pdf
G. Adomavicius, A. Tuzhilin. Context-aware recommender systems. In Recommender systems handbook, Springer, 2015.
M. Braunhofer, F. Ricci, B. Lamche, and W. Woerndl. A context-aware model for proactive recommender systems in the tourism domain. In Proceedings of the 17th International Conference on Human-Computer Interaction with Mobile Devices and Services Adjunct, MobileHCI '15, ACM, 2015.
P. Casagranda, F. Russo, R. Teraoni Prioletti. La radio lineare personalizzata. Rai Elettronica e Telecomunicazioni 2016, http://www.crit.rai.it/eletel/2016-1/161-4.pdf
S. Metta, P. Casagranda, A. Messina, M. Montagnuolo, F. Russo. Leveraging MPEG-21 user description for interoperable recommender systems. In Proceedings of the 31st Annual ACM Symposium on Applied Computing, ACM, April 2016, https://www.researchgate.net/publication/301197618_Leveraging_MPEG-21_User_Description_for_Interoperable_Recommender_Systems
P. Casagranda, M. L. Sapino, K. S. Candan. Audio assisted group detection using smartphones. In Multimedia & Expo Workshops (ICMEW), 2015 IEEE International Conference on, IEEE, 2015, 10.1109/ICMEW.2015.7169764
P. Casagranda, M. L. Sapino, K. S. Candan. Leveraging audio fingerprinting for audio content synchronization and replacement. In Media Synchronisation Workshop (MediaSync), 2015, Go to the paper
Related Projects

Active project
Digital Radio
DAB+: the digital evolution of radio
In Italy, radio is one of the most popular media, thanks to its immediacy and ubiquity. DAB+ is the technology chosen by most European countries for the digital evolution of radio. Reliability, sound quality, transmission efficiency, energy efficiency, textual and graphic information services: DAB+ Digital Radio overcomes analogue radio in several ways.
The standard has been successfully adopted by several European countries: as Norway, Germany, United Kingdom, Switzerland, Netherlands, Denmark, Italy. Among them, Norway has begun the FM switch-off at the beginning of 2017, and other countries have plans for the Digital Switch-Over.

Active project
Recommender Systems for Audio and Video Contents
An investigation of the solutions to limit information overload for radio television media
The advent of the Internet and the proliferation of digital services have led to a radical change in the way people enjoy radio and television. The plethora of products, services and content available on the Internet has accustomed its users to interactivity, the ability to search and choose when and what media content to listen, transforming the traditional radio and television listeners into an active consumers, capable of expressing their tastes and preferences. Paradoxically, the vast amount of content available has created an informative overhead and created the problem of finding the most suitable content for each user.
Recommender Systems represent the technological response to the need of relevance. In this context, the broadcaster has the opportunity to evolve its communicative paradigm: in addition to broadcast its content, it can propose the most relevant to its users.

Active project
Metadata standard for interoperable Recommender Systems
Leveraging MPEG-21 UD,  the integration of recommendations provided by different engines is allowed, and, standard descriptions for the users, their context and the services providing potentially interesting (i.e. recommendable) items are described.  Adopting MPEG-21 UD standard descriptions, a service provider can properly integrate multiple recommendations thus enhancing its service and, likely, improving the
user experience.