Multimedia IN Digital radio
MIND: a management system for Digital Radio Multimedia Services
Active project
DAB + is the chosen European technology for digital radio.
One of the most distinctive feature for users that best represents the digital radio DAB+ adoption is the possibility to contextualize and enrich a program with images and text. Images (SLS), that are showed on the enabled radio display, allow you to have a major impact on the radio program: conductor photos, channel and program logo, live images from the studio.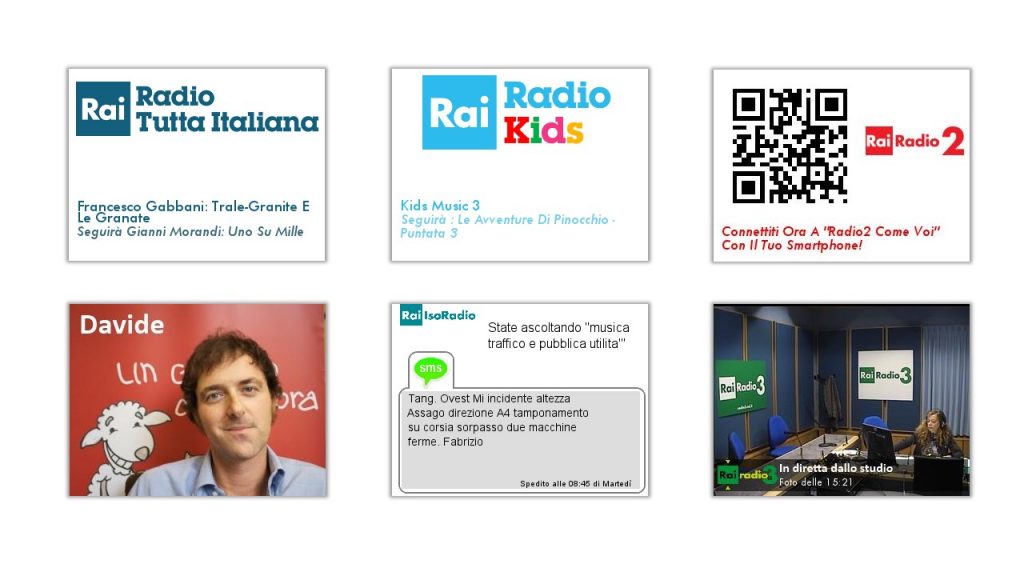 Textual information (DLS) consists of short text messages displayed on the radio screen periodically: news, traffic information, title and artist of the listening track.
SLS and DLS content on one side allow to create a more complete service and on other side it requires an additional work for broadcasters to find, manage and publish this additional information.
MIND, which is an automatic system for the correct processing and transmission of multimedia content on a digital media (DAB +, Web, App or Hybrid Radio), has been designed precisely with the purpose of making this work easier.
The framework is a "Content Management" and "Multichannel Publishing" system that allows you to associate and synchronize images and textual information to each of the radio channels distributed in the DAB + network nationwide.
With MIND, which has been in operation since 2011, publishers of each channel can manage the media content associated with their offer via a web browser.
For each program you can insert new archive images, enable webcam images or dynamic QR codes, insert news feeds from external sources (traffic information, agency launches) or write new ones from the keyboard, publish the listeners' contributions (MMS, email, SMS).
The content can be published in real time or can be pre-loaded before the start of the broadcast, leaving MIND in charge of publishing them at the right time.
The frequency with which SLS and DLS change can be set in the MIND settings.
Moreover, MIND has been designed to dynamically and automatically produce some content from available metadata. Here are some examples:
QR Code: the images that display the QR code of the program web site, allowing you to connect to it with your smartphone.
Song information: the images that display real-time information about the track on and on what will follow.
Studio cameras: some Rai radio studios are equipped with Webcam and capture studio images periodically making them available for publication.
listeners' sms: the images that represent listeners' sms content. The radio audience can directly take part into the program.
Textual News: the last updated news which deals about several topics.
Traffic News: it collects key traffic information on short text messages.
MIND' ability to synchronize with the channel's schedule and to choose and create new content to be transmitted, allows to get a channel dynamism even without the publisher's intervention.
MIND has also been designed to pilot enrichment content for other services such as App and Web Radio: any MIND's modification has an impact on all of these publishing platforms.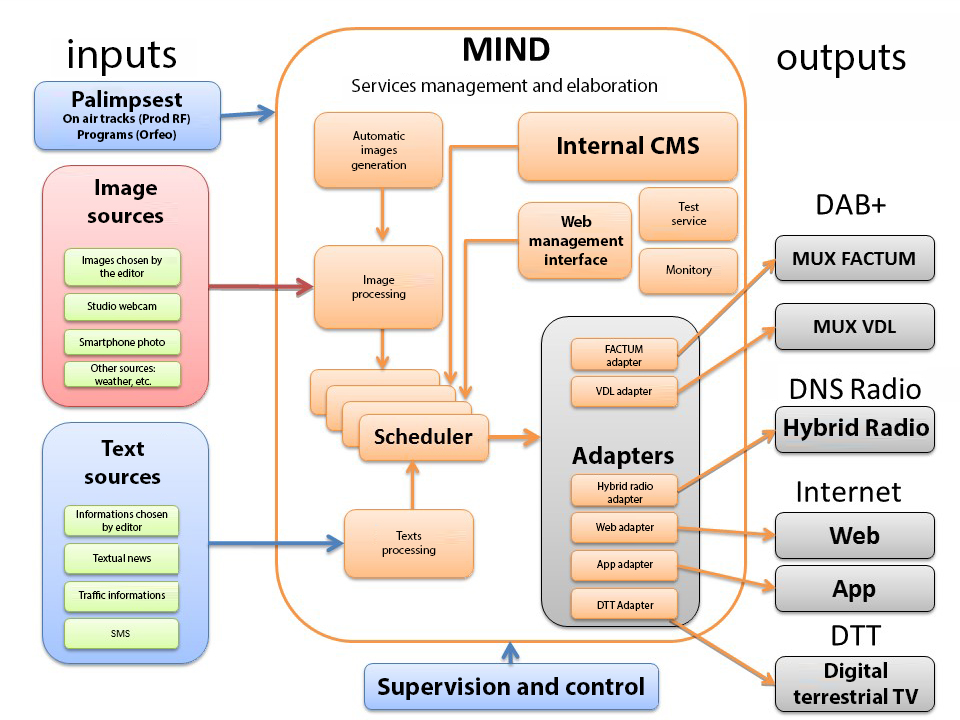 Awards
Paolo Casagranda, Francesco Russo
References
ETSI EN 300 401 "Radio broadcasting systems; Digital Audio Broadcasting (DAB) to mobile, portable and fixed receivers", 2006
G. Alberico, P. Casagranda, F. Russo: "Servizi Multimediali per la Radio Digitale", Elettronica e Telecomunicazioni, Aprile 2010
"EBU R138: Recommendation for Digital Radio Distribution in Europe", EBU, 2013
Related Projects

Active project
Digital Radio
DAB+: the digital evolution of radio
In Italy, radio is one of the most popular media, thanks to its immediacy and ubiquity. DAB+ is the technology chosen by most European countries for the digital evolution of radio. Reliability, sound quality, transmission efficiency, energy efficiency, textual and graphic information services: DAB+ Digital Radio overcomes analogue radio in several ways.
The standard has been successfully adopted by several European countries: as Norway, Germany, United Kingdom, Switzerland, Netherlands, Denmark, Italy. Among them, Norway has begun the FM switch-off at the beginning of 2017, and other countries have plans for the Digital Switch-Over.