Giornata dell'Accessibilità
Turin, 9 July 2018
Monday 9 July 2018, starting at 11.00 am, at the Enrico Marchesi hall in Via Verdi 16 – Turin, the "Presentation day of the new accessible exhibition path" will be held. This new exhibition path will be made available within the Rai Museum of Radio and Television.
The Rai Research Centre has been actively involved in the realization of this new exhibition path that offers a 360 degree accessibility thanks to the availability of new specific services for many individual disabilities.
After the press conference for the presentation and demonstration of the developed services (11.00am – 12.30pm), a meeting will take place in the afternoon (3.30pm – 6.00pm) dedicated to the associations in order to submit to them the activities and  projects in the accessibility field carried out by the various Rai structures, including the Rai Research Centre.
The event is by invitation.
Below, the detailed program of the day.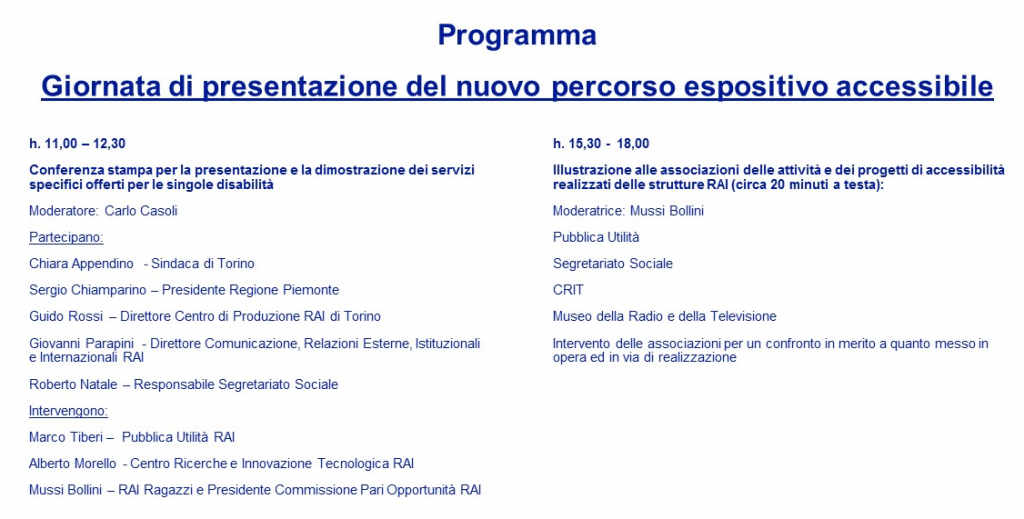 Editorial staff
2018 June 27