EBU webinar: 5G for the distribution of media content
18th of June 2020
In recent years, in which the OTT and Internet TV platforms are advancing at a high pace in the crowded competitive arena of the content industry, traditional broadcast operators try to create new gates by leveraging the opportunities offered by the next 5G networks.
In this context, the various broadcast operators (including RAI, in collaboration with EBU) have launched various research projects to analyze the extent to which the 5G network can be used for the transmission of large-scale TV signals, analyzing the FeMBMS (Further evolved Multimedia Broadcast Multicast Service) broadcast functions, which represent an evolution of the eMBMS services used in Lte networks.
Typically, broadcasters make use of purpose built, broadcast-specific technology for the delivery of their linear radio and TV services. However, the need to target tablets and smartphones with content, as well as a desire to provide interactive and on-demand services, means that mobile and IP technologies are also of relevance.
5G, as a general purpose telecommunications technology, targets a wealth of use cases – from factories to driverless cars and of course enhanced mobile broadband.
In this webinar, we will explore the question where do broadcasters requirements around media delivery fit into the 5G landscape.
We will be talking about the motivation to the interest in 5G, potential deployment aspects of the technology, and practical aspects including tests and trials carried out by broadcasters. The webinar will also look at how to enable the market for devices that support the potential needs of broadcasters.
The panellists are:
Dr Roland Beutler (SWR & EBU SP-Distribution Chair)
Andrew Murphy (BBC & EBU MTS group chair)
Simon Elliott (BBC)
Assunta De Vita (Rai)
Dr Jordi J. Giménez  (5G-MAG).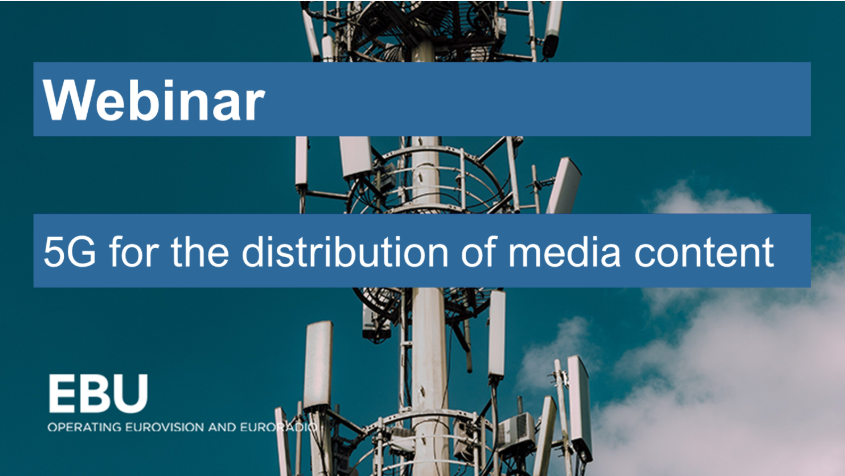 References
When: Thursday 18 June 2020 at 14:00 CEST
The webinar is free, subject to registration, and is open to both EBU Members and the external participants.
Further information including a registration link is provided here
Assunta De Vita
2020 June 08