Satellite transmissions beyond S2X
Active project
Since 1993 with DVB-S [1-4], CRIT has led the DVB developments for the introduction of digital TV and multimedia services by satellite, and his leadership continued in 2003 with DVB-S2 [5-7], and 2013 with DVB-S2X [8-10]. Such satellite standards have been  the benchmark for technical excellence in broadcasting worldwide, and similar technologies and architectures have been re-used  for designing the DVB terrestrial and cable applications.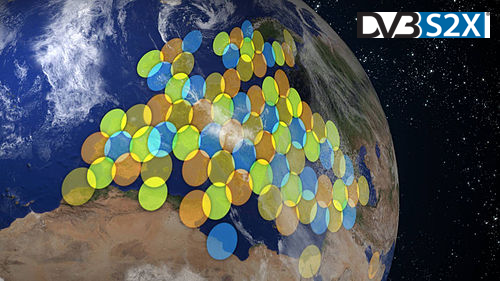 In 2013, ten years after the development of S2, the DVB Project started the definition of S2X, an extension of DVB-S2 to cover traditional DVB-S2 use cases that include digital video broadcasting, interactive broadband applications (forward link), Digital Satellite News Gathering and other professional links such as internet trunking with enhanced features and performance. It also encompasses new use cases operating at very low signal to noise ratio (SNR), such as mobile services for business jets, fast-trains, and boats, etc., and low-aperture terminals for journalists, VSAT.
For a future proof system definition, an optional super-framing structure has also been introduced in DVB-S2X , offering the following benefits:
Increased resilience to co-channel interference caused by other beams, due to super-frame-wide scrambling and regular (and orthogonal) pilot symbol insertion that can be aligned in time on different beams
Support of synchronisation algorithms by the regular insertion of reference data fields, which leads to enhanced receiver performance under severe channel conditions such as VL-SNR or link interruptions
Future proof frame design with signalling of the super-frame content format, which is able to accommodate and support:
Interference mitigation techniques
Beam hopping operations
Single-format or multi-format transmission per carrier
Introduction of different profiles where receivers can clearly identify supported and unsupported super-frame content formats
The Superframe may thus become the tool to support the evolution of the satellite technology (High Throughput Satellites and large scale Low Earth Orbit constellations) at the horizon.
The DVB is currently starting a Commercial Study Mission casting DVB's Vision for Satellite Broadcasting, looking at the near- and long term, and going beyond classic geostationary satellite constellations, anticipating a successful bringing into use of future low earth orbiting payloads.
Rai-CRIT will participate in these activities, according to its leaderschip role and active participation in the DVB technical module dedicated to satellite transmissions, aiming at evaluating opportunities, times and methods for new standardisation activities.
References
Cominetti, V. Mignone, A. Morello, M. Visintin, "The European System for Digital Multi-programme Television by Satellite", IEEE Transactions on Broadcasting, vol. 41, N. 2, June 1995
Morello, V. Mignone, "The New DVB Standard for Digital Satellite News Gathering", IBC'98 Conference, Amsterdam, 11-15 September, 1998
Morello, V. Mignone, "The New DVB Standard for Digital Satellite News Gathering and other contribution applications by satellite", EBU Technical Review Autumn 1998, http://www.ebu.ch/trev_277-morello.pdf
Mignone, A. Morello, "Il nuovo Standard DVB per il DSNG ed altri collegamenti di contributo via satellite", Anno XLIX, Numero 1, Aprile 2000
Morello, V. Mignone, "DVB-S2 ready to lift-off", EBU Technical Review, October 2004, www.ebu.ch/en/technical/trev/trev_300-morello.pdf
Morello, V. Mignone, "DVB-S2: The Second Generation Standard for Satellite Broad-band Services", Proceedings of the IEEE, Volume 94,  Issue 1,  Jan. 2006 Pages 210 – 227
Bertella, V. Mignone, B. Sacco and M. Tabone, Laboratory evaluation of DVB-S2 state-of-the-art equipment", EBU Technical Review, January 2007, http://www.ebu.ch/en/technical/trev/trev_home.html
Vittoria Mignone, Alberto Morello, Giovanni Vitale, "DVB-S2X: l'estensione verso il futuro delle comunicazioni via satellite", Elettronica&Telecomunicazioni, Anno LXIII – Numero 1/2014, http://www.crit.rai.it/eletel/2014-1/141-2.pdf
Morello A, Mignone V, "DVB-S2X: the new extensions to the second generation DVB satellite standard DVB-S2," IJSCN, Volume 34, Issue 3, pages 323–325, May/June 2016
Morello A, Mignone V, "DVB-S2X: extending DVB-S2 flexibility for core markets and new applications," IJSCN, Volume 34, Issue 3, pages 327–336, May/June 2016
Related Projects


Active project
DVB-S2X - the DVB-S2 extension for the future of satellite communications
First 4k HEVC satellite transmission using DVB-S2X from Turin
Born as an extension of second generation satellite broadcast standard DVB-S2, the DVB-S2X offers new configurations that provide improved performance in S2 scenarios (DTH, broadband and interactivity, DSNG, and professional applications, contribution and distribution TV), and extends the operating modes to cover new emerging segments such as mobile reception (airplanes, trains, ships, etc.). The new system, based on the excellent technologies of DVB-S2, introduces innovative elements at the modulation, resulting in a more extensive and granular operating range in terms of  signal-to-noise ratio, as well as an increased spectral efficiency thanks to new modulation schemes and spectrum roll-off values. With the DVB-S2X the "channel bonding" is now introduced: 2 or 3 transponder can be used simultaneously, in order to transmit very high capacity streams, enabling the broadcast of UHD bouquets.
The first satellite transmission of a HEVC encoded UHD-4k bouquet, using the new broadcasting standard DVB-S2X, has been carried out on 2014 at the Centre for Research and Technological Innovation Rai in Turin.