Beyond HDTV
Active project
Rai, and in particular the Research Centre, has always contributed to the testing and standardization of new technologies to ensure improved image quality and greater involvement of the viewer in the scene.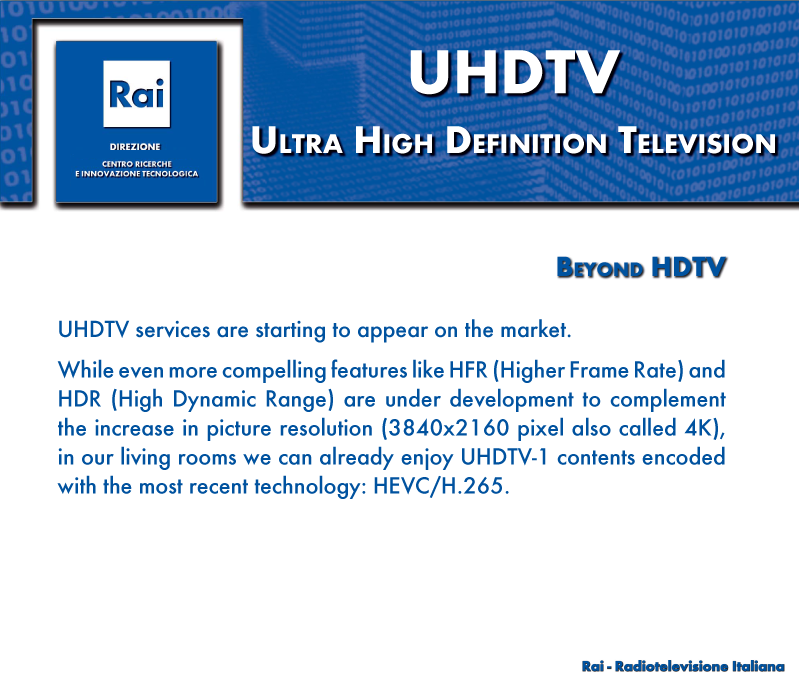 In the 80s the first experimental productions were made in High Definition, using first the then emerging analog and then digital standards standards. In 1990, on the occasion of the World Cup, Rai showed for the first time in the world digital broadcasting via satellite in high definition.
Super Hi-Vision (8K)
Since 2007, on the initiative of the EBU, the research centers of the Italian public television, English, Japanese, German, Austrian and Swiss. formed the Broadcast Technology Futures Group (BFT). The SHV (Super Hi-Vision), born initially by the Laboratory of the Japanese NHK Research is one of the BFT projects. The image format of the SHV is 16: 9, such as HDTV, but the horizontal pixels is 7680 (almost 8000, or 8K) and 4320 vertical ones: the total number of image pixels is 16 times 8K higher than that of HDTV.
Rai's contribution to the project is focused on the development of broadcasting technologies. The first issue of Satellite SHV took place in September 2008, during the international IBC conference in Amsterdam, using the standard second-generation DVB-S2. This event, made possible by the cooperation of NHK, BBC, RAI and Eutelsat, has been awarded the "IBC Special Award".
Digital Cinema (4K)
The maturation of the 8K technology will require many decades. Meanwhile the definition 4K (3840 pixels horizontally and 2160 vertically) is the next emerging format: is the standard defined by the film industry to replace the film with the digital medium, starting from the shoot up to the screening room.
This resolution, 4 times higher than HDTV, is suitable for screens of 80-100 cm in height and the associated bit-rate, suitably coded, it is compatible with the capacity offered by the second generation DVB standards (DVB-S2 and DVB T2).
Turin in 4K
Rai has therefore considered important to experience 4K conditions typical of television production and testing was carried out in Turin, with a close collaboration between the Center for Production and Research Centre. It 'was demonstrated, for the first time in television applications, the feasibility of the entire 4K chain, although within the limits imposed by the use of many still in the prototype stage systems and apparatus.
The final realization consists of a 12-minute video documentary: a sequence of images with different characteristics, but linked by a path through the story of Turin.
Google Traduttore per il Business:Translator ToolkitTraduttore di siti webStrumento a supporto dell'export
References
"Super High Definition receives the Special Award at IBC 2008", Elettronica e Telecomunicazioni, december 2008
M. Muratori, "Stereoscopic TV – The third dimension added to HDTV", Elettronica e Telecomunicazioni
A. Bertella, V. Mignone, B.Sacco, M. Tabone, "The second generation of DTT", Elettronica e Telecomunicazioni
Related Projects