ESA SCORSESE Project
Satellite supporting CDNs for the distribution of OTT services
Active project
Current issues relevant to the distribution of OTT content
In the coming years, an exponential growth in data traffic related to multimedia services (OTT: Over The Top), also boosted by mobile devices (smartphones and tablets), and the variability over time of the users' consumption of video services (live events, popular or niche on demand content, or content whose popularity may change suddenly in relation to social networks trends) is expected. This will rapidly increase the risk of saturation of the existing terrestrial networks for content distribution (CDN: content Delivery Network), in particular  during peak traffic time, with negative effects on perceived quality (QoE: quality of Experience).
Moreover, today broadband terrestrial networks do not yet achieve a uniform coverage of the territory, leaving out some areas (so-called "Digital Divide"). Similarly, the high capacity offered by each 4G/5G cell will require the deployment of a properly dimensioned backbone network, typically based on terrestrial fiber optic connections.

Integration between the satellite and terrestrial networks
To provide a solution to these limitations, synergies for the distribution of television signals between terrestrial (fixed and mobile) telecommunication networks, including CDNs, and satellite networks can be envisaged, by leveraging the specific characteristics of each technology.
In particular, with a 10-years time frame, it is possible to foresee an architecture in which telecommunication satellites are used not only for traditional transport of "linear" TV signals, but also for feeding the CDN nodes with multimedia services on terrestrial / satellite integrated networks. This would help bypassing current bottlenecks in terrestrial network backbone, with clear benefits especially during peak traffic times or in remote areas.
The architecture should also include the ability to federate international and national CDN networks, taking advantage of the satellite for "intra-CDN" and "inter-CDN" connections and for access networks.
The ESA SCORSESE Project, started in 2016 with the participation of Nomor, Rai CRIT, Fraunhofer IIS, Jet-Stream and EBU, has the goal of studying an integrated terrestrial-satellite architecture for the efficient distribution of OTT multimedia content to CDN nodes and end users.
In the first phase of the project, the main reference scenarios have been defined and the most significant services have been identified. Among these scenarios, the most promising seem to be:
Satellite as hybrid backhauling of audio/video content to CDN nodes integrated into ultra-dense 5G networks
Satellite as hybrid backhauling of audio/video content to local caches integrated into home gateways
Intra-CDN distribution towards moving nodes (e.g., on cruise ships)
For the first two scenarios, which will be extensively simulated to evaluate performance and benefits with respect to current infrastructure, the reference architectures have already been defined and detailed.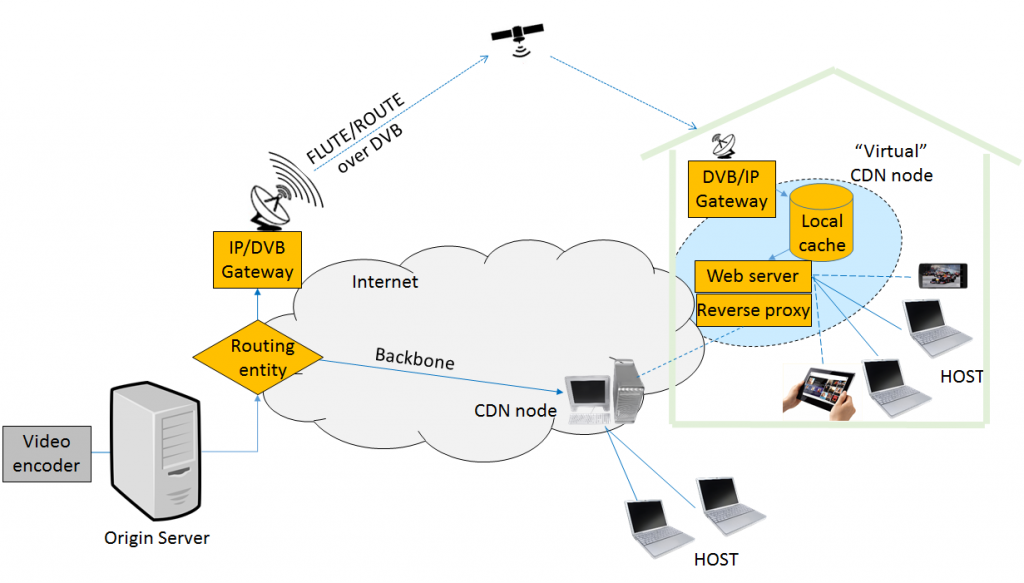 More information
ESA ARTES 5.1 SCORSESE Project
The role of satellite in collaborative adaptive bitrate streaming services
Prime Contractor: Nomor Research GmbH (Germany)
Subcontractors: RAI-Radiotelevisione Italiana (Italy), Fraunhofer IIS (Germany), European Broadcasting Union (Switzerland), Jet-Stream (The Netherlands)
References
Related Projects

Active project
TV over the Internet: OTT (Over The Top) distribution of audio/video content
Today, TV content can be distributed via Internet as OTT (Over The Top) delivery, allowing to expand the traditional offer with on-demand services. As the QoS (Quality of Service) cannot be guaranteed on the Internet as on a private IP network, during the years specific network architectures have been designed and developed (CDN: Content Distribution Network) and adaptive streaming protocols (ABR: Adaptive Bit-Rate), in order to optimise the data stream according to the broadband connection and the kind o terminal associated to each user.

Active project
Networks and Protocols
The television signal that we can see in our living room, after being generated in a TV studio or in an external shooting site, in order to reach our TV set, makes use of a rather complex and articulated telecommunications network. Broadcasting from the closest TV transmitter represents only the last part of this network.
The "Networks and Protocols" project has the task of studying the transport networks for TV signals from the shooting point up to the transmitters, with the purpose of guiding and accompanying the technological evolution of Rai networks.