TV over the Internet: OTT (Over The Top) distribution of audio/video content
Active project
Today, TV content can be distributed via Internet, allowing to extend the traditional offer with on-demand services.  This delivery mode is called OTT (Over The Top), in contrast with IPTV delivery, which is instead confined within an IP network managed by a specific telecom operator.
Besides PCs, many "connected" user terminals are widely available, such as "smart TVs" and hybrid Set-Top-Boxes equipped both for digital terrestrial and satellite reception and with Internet connectivity, or widespread smartphones and tablets. These terminals differ in their available resources, i.e., screen size and processing power; moreover, they can be connected to different and time-varying broadband networks: therefore, it is worthwhile that broadcasters deliver their content on the net according to quality levels capable of adapting case by case.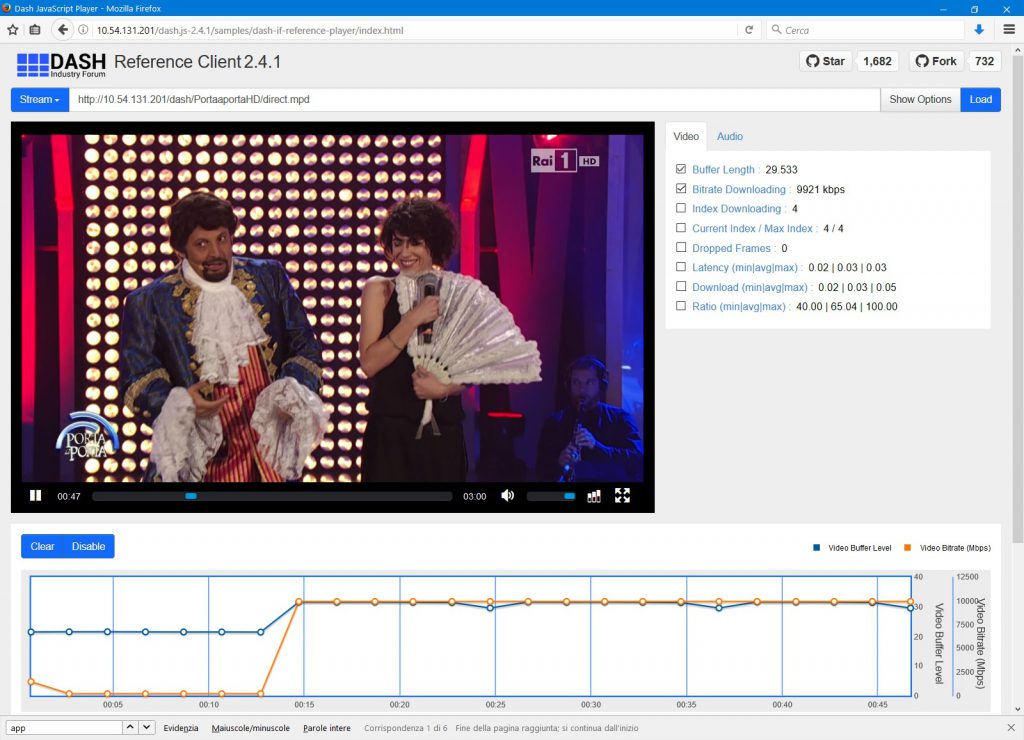 Since QoS (Quality of Service) cannot be guaranteed on the Internet, during the years specific network architectures have been designed and developed (CDN: Content Distribution Network) and adaptive streaming protocols (ABR: Adaptive Bit-Rate), in order to optimise the data stream according to the broadband connection and the kind of terminal associated to each specific user.
MPEG DASH: the emerging standard for adaptive streaming
The techniques for adaptive streaming work in this way: the original video service, instead of being delivered as progressive download, is cut into a sequence of short segments (e.g., 1-10 s), each separately encoded at various bit-rates and synchronized each other. The software application on board the user terminal has the task of continuously estimating the available throughput of the broadband connection and download the audio/video segments associated to the optimal quality level by means of the HTTP protocol.
An ABR solution very popular today is the one proposed by Apple, named HLS (HTTP Live Streaming): it is widely used on all mobile terminals (iOS, Android) and on Apple desktop systems. In order to avoid the risk of market fragmentation, MPEG has specified an own ABR protocol, named MPEG DASH (Dynamic Adaptive Streaming over HTTP). This standard includes a number of profiles, fit for both live and on demand events.
The most recent versions of HD Books, issued by HD Forum Italia, which specify the requirements for digital terrestrial and satellite receivers in the Italian market, already support MPEG DASH.
CDN (Content Delivery Network)
When traffic peaks occur, the huge amount of data requested to the broadcasters' delivery servers would be unbearable. The technique adopted to overcome such situations consists in distributing the video content across a CDN, to servers deployed in specific locations (POPs: Point Of Presence) on the national or international territory, named "edge nodes". Each user is automatically redirected to the closer node according to the geographical position and his Internet Service Provider, in order to achieve the best possible performance.
Along with the increase of OTT services popularity and bit-rate of the distributed content (HD and, in the future, UHD), the adoption of CDN networks causes an increase of the costs for the service provider (in fact, costs are generally proportional to the traffic delivered to the final users and the amount of data stored in node caches), in addition to a risk of congestion of the network backbone.
To face these issues. At Rai-CRIT some studies on alternative modes to feed the CDN nodes have started, possibly leveraging the assets already available to broadcasters, or exploiting a multicast-based distribution on the network backbone at least for "live" content.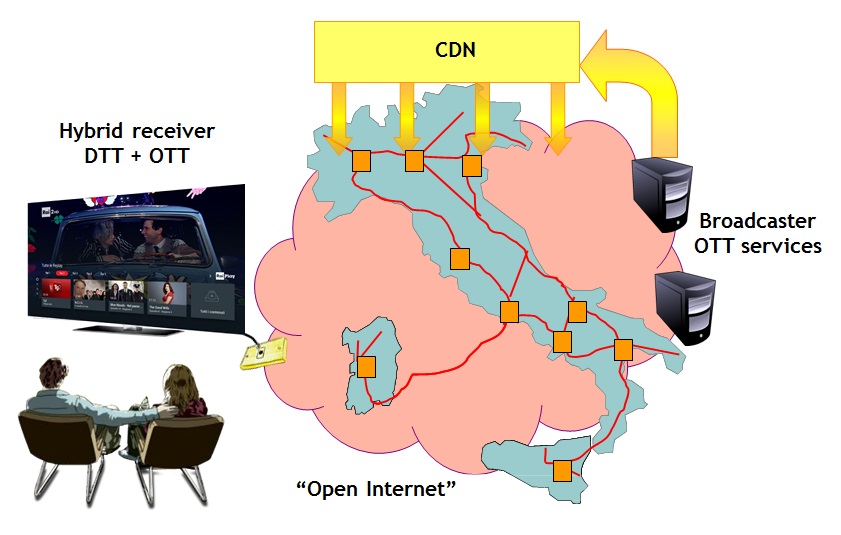 References
Related Projects

Active project
TV signals on ultra-wideband optical fibre networks
Optical fibres are now increasingly popular in telecommunications, due to their extremely high bandwidth, their very low attenuation, their complete immunity to electromagnetic interference and their reduced diameter and weight.
For these reasons, they are playing an increasing role in trasporting TV content, both for in-building TV signal distribution within the multi-service optical infrastructure, which is mandated in all new buildings (Italian Law 164, 2014) and for TV consumption via broadband networks, which will benefit from ongoing investments in FTTH (Fiber to The Home) architectures, where the fibre is terminated at each building. In Italy, network operators are launching massive optical fiber investment plans over the next five years, not only to cover the most densely populated areas (A and B) but also for less profitable areas (C and D).


Active project
Networks and Protocols
The television signal that we can see in our living room, after being generated in a TV studio or in an external shooting site, in order to reach our TV set, makes use of a rather complex and articulated telecommunications network. Broadcasting from the closest TV transmitter represents only the last part of this network.
The "Networks and Protocols" project has the task of studying the transport networks for TV signals from the shooting point up to the transmitters, with the purpose of guiding and accompanying the technological evolution of Rai networks.