800 MHz LTE interference on UHF TV reception: laboratory characterization of antenna amplifiers
Completed project
Following the recent introduction of LTE mobile service in a portion of the UHF band (800 MHz band) that traditionally was for the exclusive use of television, with the resulting interference issues, many studies have been performed at international level to evaluate and possibly mitigate the interference on TV reception [1]. Among the various considered aspects, a particularly critical point is the TV antenna amplifier: in many countries, including Italy, television signals received by a centralized antenna are delivered to the users by means of collective distribution systems, which can include active elements such as amplifiers [2]. Typically, masthead amplifiers are used in small installations, while communal head-end amplifiers are used in larger installations. In particular, broadband amplifiers, common in Italy, are very prone to this type of interference [3, 4].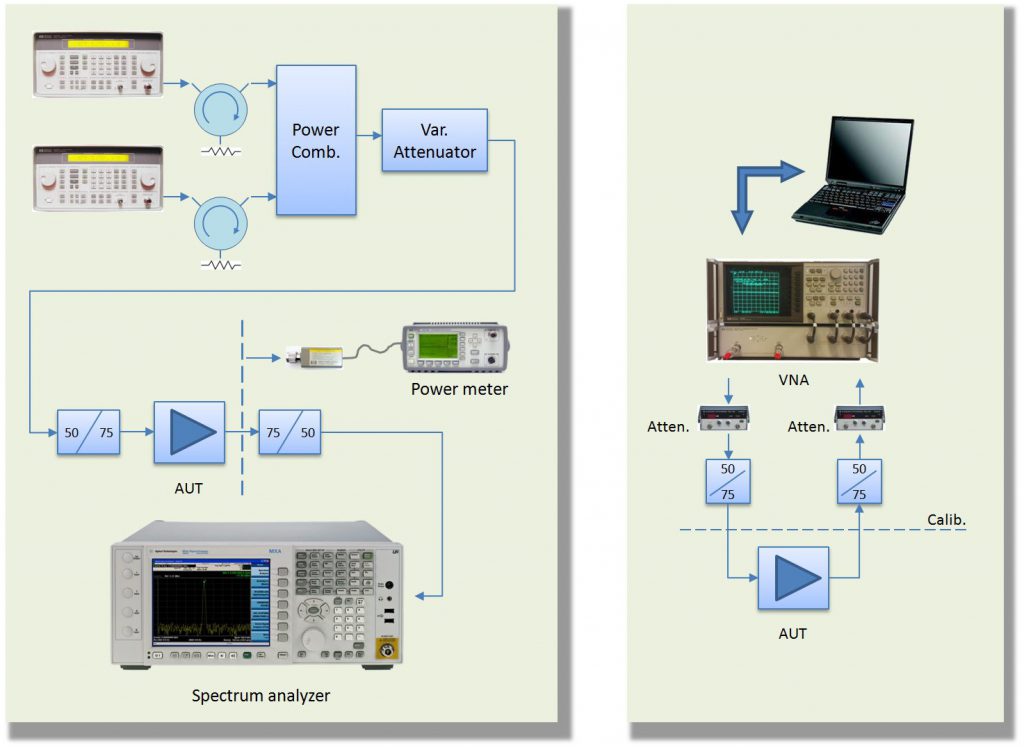 As known from radio engineering, when multiple frequency signals transit through a non-linear device, such as a typical broadband amplifier, new spectral components, i.e. the inter-modulation products caused by cross-modulation among the frequencies of the input signals, appear at the output of this device. Obviously, these new spectral components are in fact interferences degrading the original signal reception. This phenomenon, being "nonlinear", occurs to quite different extents, depending on the level of the input signals and on the intrinsic characteristics of the amplifier: it is therefore necessary to characterize the latter in order to assess its behavior in the presence of high level 800 MHz-band LTE signals.
In a first stage at Rai-CRIT a software model of a nonlinear amplifier was developed, based on IMD (Inter-Modulation Distortion) up to 3rd order, whose parameters are derived from a real device [6,9]. The model can be applied in order to predict the level of interference on television channels due to inter-modulation [3,4,8], and was published as ITU-R document BT.2298 [5].
The laboratory characterization of the non-linear behavior of an amplifier, in addition to validate the simulation model, allows to obtain the parameters used to simulate real cases. For this purpose, two different laboratory test-benches have been set up, according to the following two methods:
Two tone method [6], which allows to directly measure the magnitude of the 3rd order inter-modulation products, and the rated output value of the amplifier as shown in the vendor data sheets.
Evaluation of the gain compression curve, which allows, by interpolation, to derive the coefficients of the polynomial (up to 3rd order or even beyond [7]) approximating the amplifier's input/output transfer curve.
For the first test bench, two RF signal generators have been used to obtain the two tones. The two signals were added via a hybrid combiner characterized by a high isolation between ports. Yet, it was necessary to provide an additional decoupling between the generators using two terminated circulators, to achieve the required purity of the spectrum at frequencies of third order inter-modulation products. A variable attenuator before the amplifier under test has allowed to explore the device behavior at various levels of the input signal. The levels of the spectral components of the third order were selectively measured with a high quality Spectrum Analyzer. The combined power measurement was made with a RF Power Meter.
The second test bench has been set up using a Vector Network Analyzer (VNA) configured in  power sweep  mode at the intended test frequency. From the gain/level curve provided by the VNA we could extract the 1st, 2nd and 3rd order coefficients (and more, if wished) using polynomial interpolation. The measurement was then repeated for different frequencies, for each amplifier under test.
The used mathematical model and the two adopted measuring techniques have general validity for any broadband amplifier. The results of the two methods, obtained on several commercial amplifiers of different brands and types, were found to be in good agreement with the data declared by the manufacturers.  This is especially true for the first measurement method, as it is the same one used by the manufacturers;  however, this method makes it possible to evaluate the 3rd order polynomial coefficient only. The second measurement method, based on the gain compression curve, allows to characterize the device more realistically (by choosing the appropriate order of the polynomial); on the other hand it proved quite sensitive to the input power level, which must then be carefully chosen.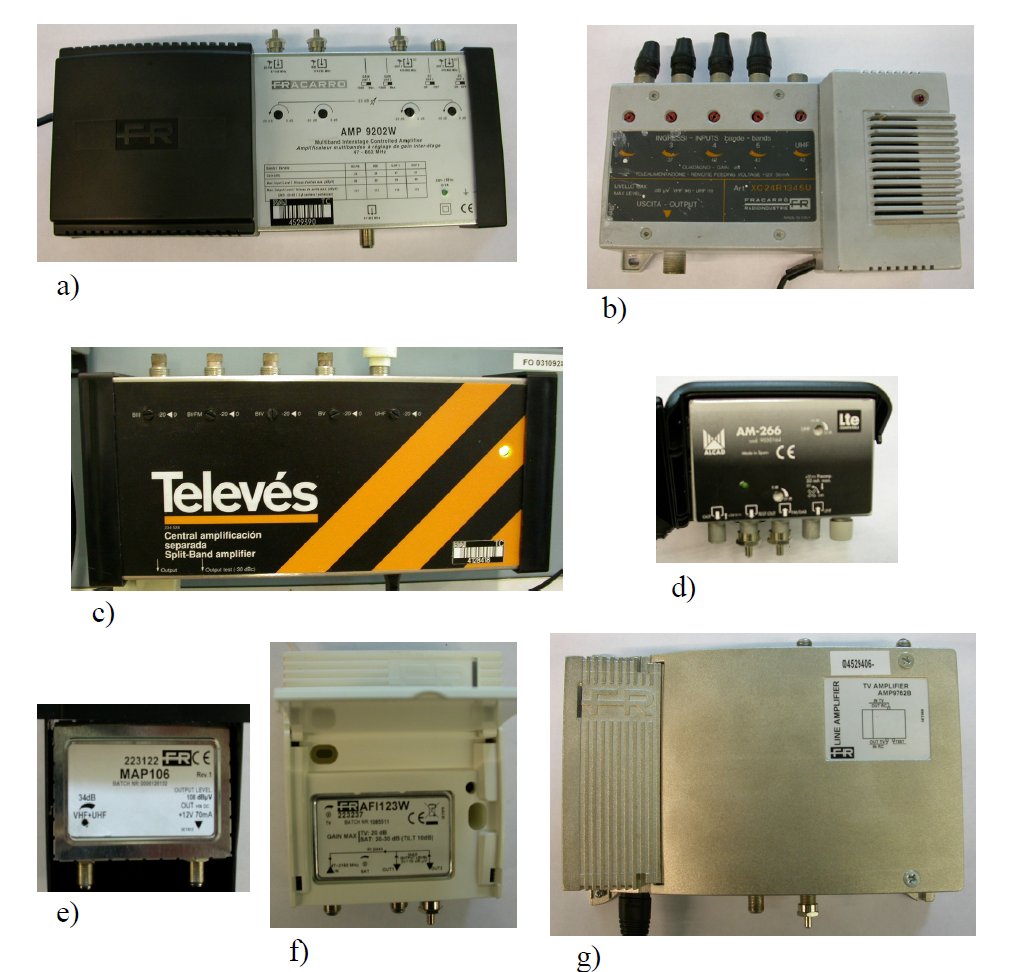 More information
Authors:
Davide Milanesio, Bruno Sacco
Collaborations:
This activity was carried out as part of a collaboration between Rai-CRIT and RaiWay for making technical contributions to ITU-R working groups on interference issues between broadcast and mobile phone signals in the UHF band, in view of the WRC-15 Conference (World Radio Communicarion Conference 2015).
References
[1] A. De Vita, D. Milanesio, B. Sacco, A. Scotti: LTE e impianti di ricezione TV: Possibili tecniche di mitigazione delle interferenze, "Elettronica e Telecomunicazioni", No. 2, August 2013, http://www.crit.rai.it/eletel/2013-2/132-3.pdf.
[2] P. Barnett, Masthead and Indoor Amplifiers for TV Signal Reception and Distribution, June 2011.
[3] D. Milanesio, B. Sacco, V. Sardella: LTE e DTT: Effetti dei segnali di telefonia mobile di 4° generazione sugli attuali impianti d'antenna televisivi, "Elettronica e Telecomunicazioni", No. 3, December 2011, http://www.crit.rai.it/eletel/2011-3/113-6.pdf.
[4] A. De Vita, D. Milanesio, B. Sacco, A. Scotti: LTE e impianti di ricezione TV: Stima dell'interferenza generata al centralino d'antenna, "Elettronica e Telecomunicazioni", No. 2, August 2013, http://www.crit.rai.it/eletel/2013-2/132-2.pdf.
[5] Report ITU-R BT.2298: Reference model to be used for the assessment of interference into the television broadcasting service in order to take into account non-linearity in the television radiofrequency receiving system, April 2014, http://www.itu.int/pub/R-REP-BT.2298.
[6] IEC 60728-5: Cable networks for television signals, sound signals and interactive services – Part 5: Headend equipment.
[7] F. Mussino: Measurement approaches for 5th order intermodulation products, CENELEC TC 209 Workshop, November 2010.
[8] Report ITU-R BT.2296: Example of application of Recommendation ITU-R BT.1895 and Report ITU-R BT.2265 to assess interference to the broadcasting service caused by the impact of IMT systems on existing head amplifiers of collective television distribution systems, November 2013, http://www.itu.int/pub/R-REP-BT.2296.
[9]  K. Simons: Technical Handbook for CATV systems, Jerrold Electronics Corporation, Philadelphia, Pennysilvania, USA, 1968.
Related Projects